This new series of blog posts includes my thoughts on episodes of the popular Whiteboard Friday series created by Rand Fishkin at Moz.
This week's thoughts are on this episode of Whiteboard Friday: How to Optimize for Competitors' Branded Keywords
My Initial Notes:
Rand continues on his keyword focused series of Whiteboard Fridays, which is welcomed by many SEOs who are tired of hearing only about content marketing
Strategy: must make sure branded keywords have enough volume to actually target. Often it's not actually the case
Tactic: Use AdWords to bid on competitor keywords
Bidding on AdWords is the fastest way to find out if the keywords are worth bidding on

From my experience bidding on AdWords for competitor terms can work to a degree, but not guaranteed
Often the click through rate will be much lower than the average

Be sure to do research with tools such as KeywordTool.io, Google Keyword Planner, etc
Take a look at what people are saying about competitors on forums, blogs, etc
Also can use Survey Monkey or Google's Consumer Insights tool
Make sure you choose the sweet spot. Don't go to high or too low in the funnel. "Evernote review" and "Evernote alternative" are good, but "Download Evernote" is too low in the funnel. "What is Evernote" is likely too high in the funnel.

Love the different breakdowns of analyzing each keyword for user intent

Thinking about what level of the funnel people are in with their keyword searches is very important
You should create a page that reads like a 3rd party editorial. Or actually hire a 3rd party to write it.
Think about key differentiators, user reviews, etc. Copy user reviews and sync them up to compare.
Should do a full-featured breakdown. Use a lot of terms and phrases about what's inside the product.
3rd party content on another site is an option
Sometimes you can just ask external reviewers to review your product, often people will just say yes
Can contribute guest posts, or contribute to a discussion forum as well
Promotion and amplification is more difficult because it's adversarial, so focus on your super-fans
Using AdWords to Test Keywords
Rand recommends using AdWords to test keywords for competitors brands. This is definitely and often recommended strategy, especially if you're starting out and don't know which keywords will and won't work. It's especially true if you have almost no traffic and data to go after. It's hard to know at first where to concentrate your effort when you have fifty different options.
From my experience working with clients, bidding on competitors keywords is a bit difficult. The challenge is 1) that there might not be enough volume 2) if people are searching for your competitor, they're most likely very focused on getting to that site and 3) if your landing page doesn't line up with your ads and keyword targeting, you're not going to get a good quality score in AdWords.
For this reason, if you're going to try out this tactic, definitely start out first by creating one really good landing page on your site that compares your features to the competitors. You should focus on a small subset of keywords for your competitors' brand and test those out. In this example, you'd create an Evernote Alternatives page that really focuses in on the users' choices.
Rand covered much of this, but one thing missing was that idea that in AdWords you really need to be sending the visitors to the page that perfectly matches your Ad Group or else you'll be paying extra for the clicks from a lower quality score.
Choosing the Right Level of the Funnel
One of the more time consuming and human-labor necessary parts of keyword research and targeting is the process of categorizing and labeling different keyword intentions. Sometimes a user is just trying to get to the website of what they're searching for. If a user types in "Evernote" in the search engine, 99% of the time they're too lazy to go to evernote.com or they just aren't 100% sure that's the actual website URL. This is more common for brands with less confusing domains, like "getdropbox.com".
SEMrush provides a good breakdown of the different keyword intent types. They are: navigational, informational, commercial, and transactional. Navigational means they just want to get to the website and they're not looking for other types. Another example would be "Evernote download" if they just want to get to the download page. The other types are important parts of the user journey, with transactional being the lowest down in the funnel with the person ready to buy.
This takes so much human effort to distinguish since slight variations in keywords can have a big impact on the search results. If you're searching for "rio de janeiro" you may be looking for a history of the city, some photos, and maybe the official city website. If you search for "rio de janeiro travel packages" on the other hand, you're pretty set on buying a Rio travel package, and you just want the best discount. Hand categorizing takes quite a while, but there are automated ways of doing it. SEONick provides an awesome guide on doing so in Excel using automatic tagging.
It can be hard to know when to focus on keywords from which level of the funnel. If you're just starting out, it's probably best to start with commercial intent as the baseline and work your way up. It's easy to focus on long tail, top of funnel keywords but early on, you want to establish what's working and what's not before you invest a lot of time on your funnel optimization process.
Other Page Type Ideas
What I've seen work really well in my SERP sleuthing is the brand vs brand types of keywords. Start typing your brand or your competitor's brand in Google and you'll instantly see how popular these searches are: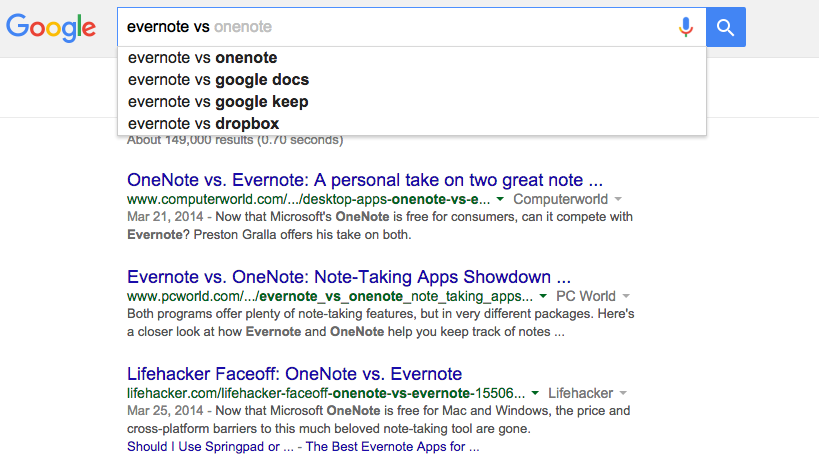 You could build out a whole series of well-crafted landing pages based on what you find. These are the types of searches as well where the user is in full-on research mode and will be opening a ton of pages to compare and research.
So if you're ranking #9 for one of these phrases you're much more likely to get a click-through on this SERP than  you would for a less research oriented SERP.
Pro-tip: Hone-in on the brand vs brand types of pages and queries.
Another idea is to do a roundup page where you cite 3rd party reviews that are already out there. Go find 5 positive editorial reviews about your product and summarize that on one page. Even better if you can quote those reviewers that highlight your best features vs the competitors.
Optimize for competitors terms, but do it with a good strategy in mind. It probably shouldn't be the first thing you do, and is most appropriate for a mid-stage company that is looking for incremental traffic and areas to optimize. Know who you are first before you go comparing yourself to others.