The format of an infographic is amazing for epic pieces that need to tell a story in long visual form. But if you want to create digital graphics and have them shared often throughout the web, infographics are too large to ask someone to include in their story for illustration purposes. An infographic is the story, and if inserted into another story it can take over the whole story.
The format of an infographic has been fairly standard since they've taken off. About 600px wide and as along as necessary. The idea was to make it long and cool and cram in a lot of facts and figures illustrated graphically in a way that made sense of the data.
But I've noticed them being featured less and less.
I think that the WOW factor of infographics have worn off and writers are now including these visual graphics only if they make a good story. If they don't make a good story and actually say something with the data, then they often don't make the cut anymore.
Originally infographics were built to illustrate complex data in a way that conveyed the message more clearly than looking at a whole swath of numbers. Over the years the idea of an infographic as a medium was more important than the content itself in some cases.
Enter the Visual Data Nuggets
What I've been noticing lately is smaller illustrated pieces that have one purpose and illustrate one point. These smaller visual assets can more easily be embedded into a story and don't take over the whole article. Here is a term that I've just made up for my own understanding: Visual Data Nuggets.
I would call visual data nuggets a type of visual asset that uses data in some way to illustrate a point and support your story.
In the simplest, 1990s Microsoft-era form, a visual data nugget could just be a slide from a PowerPoint deck. A slide is the perfect example – it often uses data illustrated in some graphical form to show one point. One singular focus.
Venturebeat recently ran a story about Pinterest users being mostly women (what!?). And front and center, they used this picture: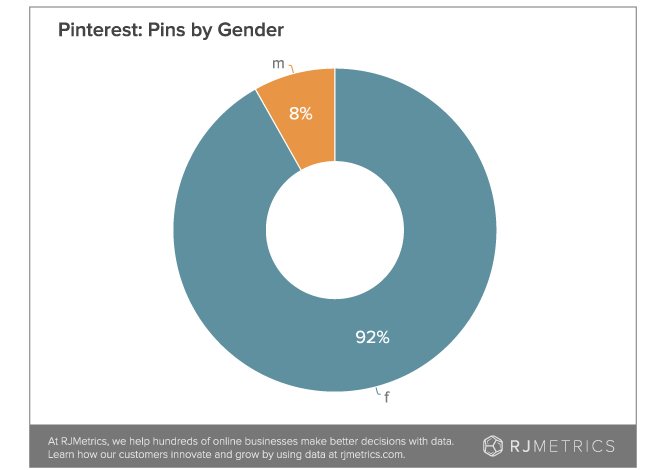 Now to me, that looks like little more than a PowerPoint slide saved in JPEG form. But it's good enough to use a bunch of these in a Venturebeat story.
Notice how I'm linking to each of these sources? In the world of SEO and organic rankings in Google, links are the fuel and contribute greatly to referral traffic and rankings. I'm linking to these visual data nugget creators with no extra effort on their part. I'm the blogger and sought these out, they didn't ask me to post these. That's golden.
Here's another visual data nugget, representing numbers (height) in a visual way with a simple, singular focus:

As a business trying to promote your brand, you might consider creating 6 of these smaller Visual Data Nuggets instead of creating a monster infographic. These nuggets are more reusable, shareable, and fit better in a variety of stories.
Visual Data Nuggets vs Visual Assets

Here's an example of a visual asset that I saw at the top of my Twitter feed today: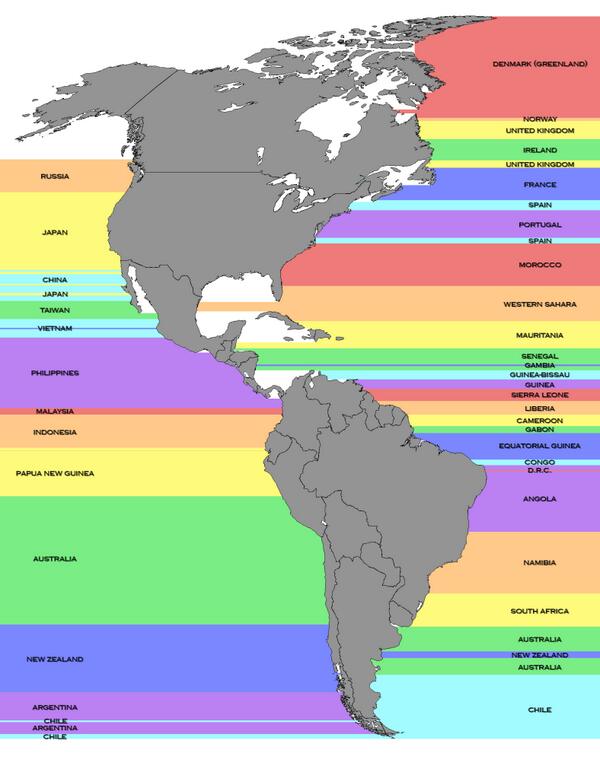 This visual asset focuses on only one idea: "Which countries are due east and west of the Americas". It's a very interesting idea and it gets right to the heart of it in this map. If this was an infographic it might throw in a bunch of other statistics that could be helpful, could not. I like this because it is a somewhat abstract idea that forces your mind to challenge it's own preconceived notion of geography and latitudeness.
Did you know that Spain was roughly parallel with New England? I assumed it has similar weather to California, so must be around that latitude. Life changing.
Rand Fishkin has a great set of examples and explanations on visual assets.
Rand Fishkin on Visual Assets
Rand Fishkin talks about this specifically in an excellent Whiteboard Friday, Why Visual Assets > Infographics
A few of Rand's points:
Audiences are getting tired of the infographic format (I don't agree myself)
They are burdensome to put on the page
Hard to read sometimes
Accidental linking when embedding infographics
Infographics are just one type of visual asset, and not the best type
I don't 100% agree that people don't like the infographic format – I think they don't like crappy infographics, but I get Rand's point.
Rand makes a great case for Visual Assets however, which I completely agree with. The great thing about this Whiteboard Friday post is that there is a visual asset right on the page that I can use right now: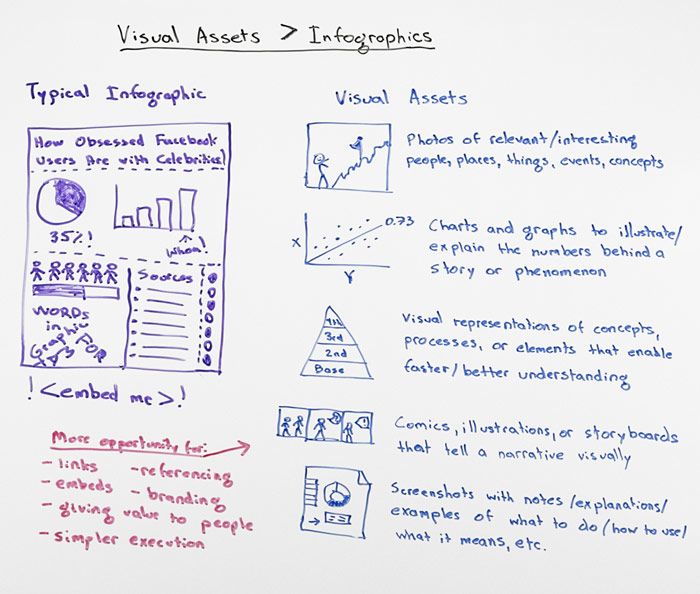 Rand rattles of a firestorm of other benefits of Visual Assets over Infographics:
Don't have to be high quality graphics, but if they're useful they'll get shared
Even a simple screenshot with an annotation can be a visual asset
You get a lot more opportunity from visual assets for links and references than you do from infographics
You get more opportunity for embeds, don't take up an entire post
Add more value, simple to consume and understand
Far simpler to execute – doesn't take graphic designer to produce
Doesn't cost much to create – can produce a far greater quantity than you can infographics
I agree with all of the above points. Bloggers, reports, social sharers can more easily share and include these visual assets.
On point #1 above – they don't have to be high quality – you could literally create a simple image in PowerPoint and with a somewhat intelligent choice of colors and helpful text, create something like this: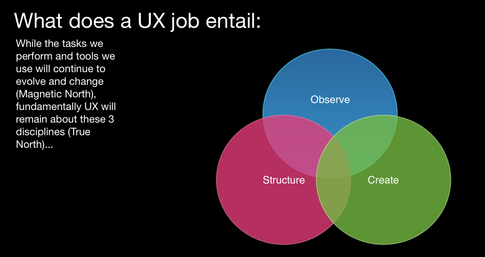 I found the above on Quora a few days ago and it was useful enough for me to add to my Dragdis tool to save for later. When looking deeper at it, this could be easily created in PowerPoint with the right combination of colors and transparencies.
In fact, inspired by the above, I've decided to eat my own dog food, and create this asset right in PowerPoint. Let's get started: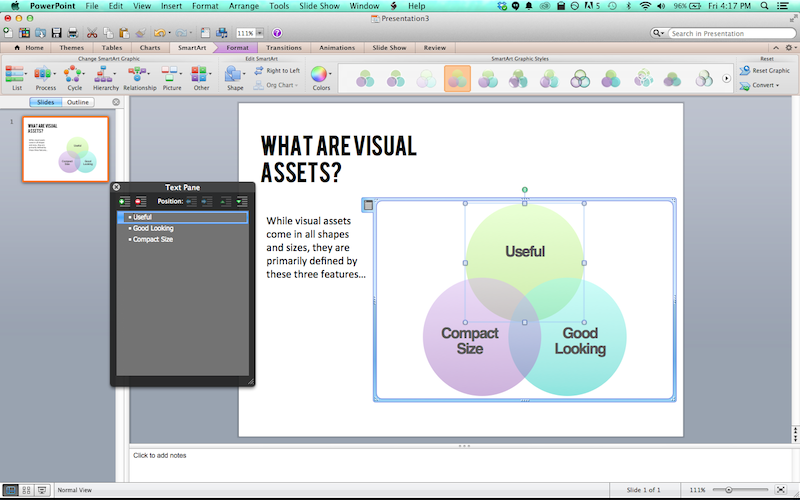 That's about 8 minutes into it. Spending another 7 minutes to clean it up and we have: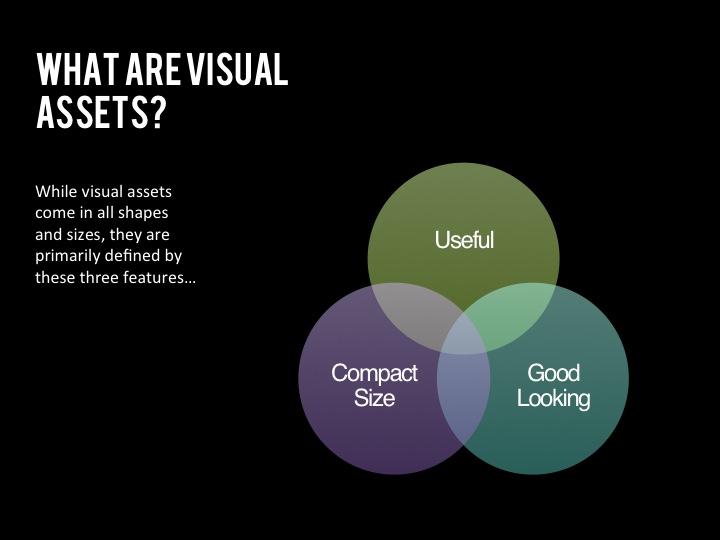 Not too bad for a non-designer in my own opinion. I'll take 10 of these at 15 minutes of work each in my busy schedule rather than trying to wrestle out a 10 hour infographic.
A few tips for amateurs:
"Bebas" or "Helvetica" font are excellent no-brainer choices
I used Bebas for the title, Helvetica in the circles, Calibri in the font
Don't use more than 2-3 fonts in one of these. Probably no more than 2, meaning I just broke my rules
Trust pre-determined color harmonies rather than your own nit-picking
White on black looks sleeker than black on white
Flat design colors are in
Take Greater Risks with Visual Data Nugget Assets
As a content producer you can produce more and taker greater risks on your content: you don't have to commission an infographic agency, brainstorm ideas, do story boarding, go through a few rounds of mockups, decide on colors, and approve the final design. With visual assets and visual data nuggets  you can fire off a whole set of ideas in an afternoon. If you have no design skills, get a stack of 3×5″ cards and a sharpie and quickly draw out the thoughts in your head, with one visual asset sketch per 3×5″ card. Do 10 of these, choose the best ones, and hand the stack to your graphic designer to create. If you don't have a graphic designer, commission one online through Dribble, Behance, or oDesk.
The opportunity for visual graphics and visual data nuggets is only just being realized. As bloggers and content creators online move beyond simple text on the page and a few paragraphs with one image in the blog post, they'll be wanting to spruce up their stories in creative ways. As a business owner or online marketer, you should make it easy for these people to embed your assets and give you credit. The more you shoot, the more you'll score.